A lot of times we, myself included, tend to take for granite some of the things we have readily available to us, food, water, grocery stores with the shelves always packed with food. In these times we tend to worry about insignificant things.
It was either last year or the year before we had a major snow storm. Roofs collapsed, people got trapped in cars, etc. My Aunt who has cancer had to go to Roswell and the fireman had to come get her because vehicles couldn't get through. Tops markets is right around the corner from me. I went there to stock up on some food/supplies.
Here's a pic of the shelves and this is only after the first day of the storm.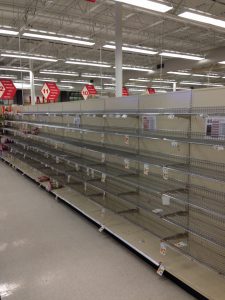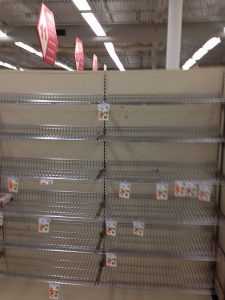 Because the grocery store is so close to me I've never really thought about the amount of food or water we have in our house.
A few weeks ago we lost water at my home. Not sure if you lost water here or not. I panicked a little since we didn't have any water in the fridge except for a small container. But that was it.
It kinda hit me all at once. Not only is food important but most important for our physical survival is water. They say a human being can only live 3 days without water. It made me think of two things.
One, 3 is a significant number that it represents the Trinity (Father, Son, Holy Spirit). There numerous references to water in the Bible. I don't think it's an accident that God made our physical bodies to work the way they do; and most importantly I don't think it's an accident the Bible makes references to water as a symbol for the Holy Spirit and that our eternal life is dependent on the living water.
I want to share with you an article I found about water and or physical need for it.
A summary of the article:
"Once the body is deprived of fluids the cells and organs in the body begin to deteriorate. The presence of water in the body could mean the difference between life and death.
Every organ in the body needs water to continue living. The survival of the kidney, and heart, and the purity of the blood depend on the adequate intake of water.
The role water plays in maintaining the functionality of the body is remarkable. Without water the body will perish. "

So our physical bodies will perish without water. Much like this we simply can't have eternal life without the living water.
In John 4:13-15 we read: Jesus said to her, "whoever drinks of the water that I will give him will never be thirsty again. The water that I will give him will become in him a spring of water welling up to eternal life." The woman said to him, "Sir, give me this water, so that I will not be thirsty or have to come here to draw water."
Continuing on with the article:
"Another disadvantage of the body being deprived of water is the lack of oxygen and nutrients that water carries throughout the body. Water is used to flush impurities out of the body.
A dry body cannot absorb or digest foods. Bones will lose it cushioning and become more prone to breaks, and infections.

Isaiah 58:11 ~And the Lord will guide you continually, and satisfy your desire in scorched places and make your bones strong; and you shall be like a watered garden, like a spring of water, whose waters do not fail.
CONTINUE IN ARTICLE: "The body needs at least 8 glasses or 64 ounces of water per day. This is to ensure that all the cells and organs in the body are being properly watered. The human body needs a large quantity of water on a daily basis in order to stay healthy."
In John 7:38 we Jesus tells us: "Whoever believes in me, as the Scripture has said, 'Out of his heart will flow rivers of living water.'"
If you put your faith and trust in Jesus and believe that he is everything he says he is, that he died for our sins, that he rose from the dead then out of your heart will flow rivers of living water. You will be full of life. When you truly do this I assure you, you wont have to try and read the Bible, you'll want to. You wont have to try to gather to worship with other believers, you'll want to. You wont have to try and tell others about the Gospel you'll want to. You wont have to try and forgive your brother or sister, you'll want to.
Ezekiel 36:25-29
I will sprinkle clean water on you, and you will be clean; I will cleanse you from all your impurities and from all your idols. I will give you a new heart and put a new spirit in you; I will remove from you your heart of stone and give you a heart of flesh. And I will put my Spirit in you and move you to follow my decrees and be careful to keep my laws. Then you will live in the land I gave your ancestors; you will be my people, and I will be your God. I will save you from all your uncleanness
"The Spirit and the Bride say, "Come." And let the one who hears say, "Come." And let the one who is thirsty come; let the one who desires take the water of life without price. "
Folks if you've put your faith and trust in Jesus you can rest that you will have eternal life without price because your sins and my sins were nailed to the cross.
"They shall hunger no more, neither thirst anymore; the sun shall not strike them, nor any scorching heat. For the Lamb in the midst of the throne will be their shepherd, and he will guide them to springs of living water, and God will wipe away every tear from their eyes. Revelation 7:16-17"
Our physical bodies in this life can't survive without water. It seems clear that scripture is teaching us that we simply can't survive the next life without Living Water. All we have to do is believe.
I believe in God our Father
I believe in Christ the Son
I believe in the Holy Spirit
Our God is three in one.
I believe in the Resurrection
That we will rise again
For I believe in the name of Jesus
Sources: http://www.thewaterpage.com/live-without-water.htm